Spa Lab is a Flexible & Responsive Beauty Spa WordPress Theme that is specially designed for Wellness Spa, Beauty Salon & Massage Parlours, Haircare Products, Yoga & Meditation center, Nail Salons, Barbershop, Hairdresser, Medical Spa, Health & Wellness Center, Luxury Spa, Makeup Artist, Physiotherapy, Treatment center Healthcare and Cosmetic Shop.
This Beauty Spa WordPress Theme can be used by Massagist, Masseur, Dermatologist, Rehabilitation & Rejuvenation Health services & Chiropractic Therapy Treatment, Skin Care doctors Websites.
This Spa WordPress Theme included a wide range of features like Spa Booking Calendar, therapist, reservation & Appointment, product offers, gift card, online shop with WooCommerce from where you can sell Organic & ayurvedic products, homemade soaps, beauty creams, nail lacquer, shampoos. Besides these, this spa theme also provides some essential features such as Blog posts, Gallery pages for treatments, many Portfolio layouts that make this theme as the best Spa Beauty WordPress theme.
Summary & General Functionality :
| | |
| --- | --- |
| Suitable for | Spa Beauty |
| Drag & Drop Website Builder | Yes |
| Coding Knowledge Required | No |
| One-Click Demo Importer | Yes |
| Pre-built Websites (Demo) | Yes |
| Gutenberg Optimized | Yes |
| Responsive Design | Yes |
| Mobile Friendly | Yes |
| SEO Friendly | Yes |
| Premium Slider | Yes |
| Premium Plugins | Yes |
| Popular Plugin Support | Yes |
| WooCommerce Support | Yes |
| Multi-Lingual/WPML Support | Yes |
| Contact Page | Yes |
| Mega Menu | Yes |
| Widget Ready | Yes |
| Design Elements | Yes |
| Product Page Layout | Yes |
| 404 Page Layout | Yes |
| Portfolio Layout | Yes |
| Testimonials Slider | No |
| News / Blog Layout | Yes |
| Custom Page Templates | Yes |
| Ad. Header-Footer | Yes |
| Search Options | No |
| Support and Documentation | Standard |
| Average Rating by User | 4.82 |
| Five Star Rating | 86% |
| Lifetime Update | Yes |
| Reliability and Performance | 4.9 (Out of 5) |
| Comfort of Use | 5.00 (Out of 5) |
| Price | $59 |
| Available at | ThemeForest |
| Total Demo/Layout | 4+ |
| View Live Demo | Go to Theme Page |
| Free Trial | No |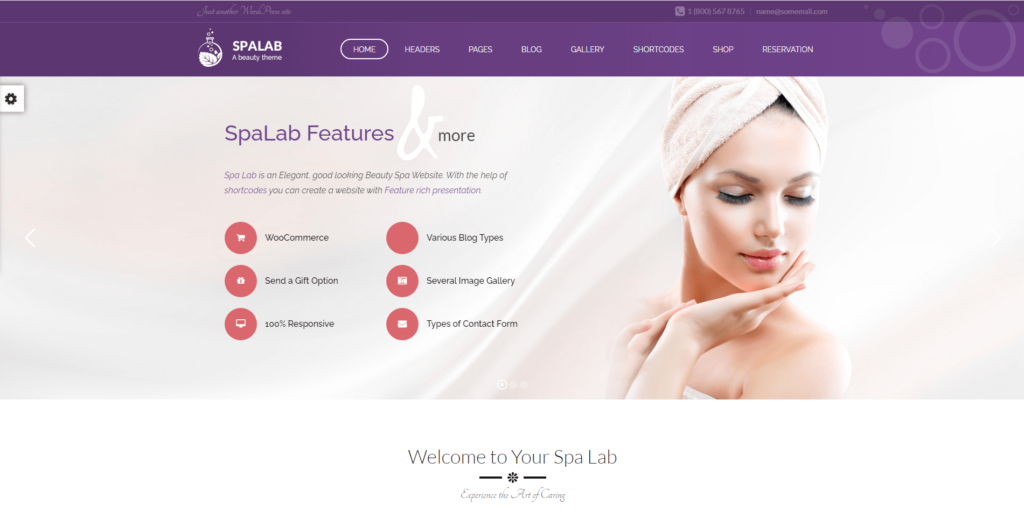 Comfort of Use

Reliability and Performance

Support and Documentation

$ value
Overall Rating :
After verifying each and everything of this Spa WordPress Theme, we gave an average rating of 4.9
Table of Contents :