PWA Builder is an extraordinary tool to create web apps for Android, IOS, or Windows easily and quickly. It takes only a few minutes to create and publish an app if you already have a website. It's a web app but users will feel like a native app. It works very fast even when offline if anyone already used the app. Instead of developing an application from scratch, It is a super convenient way especially for beginners who already have a website and now want to convert their website into an application. Let's create a PWA with a few simple steps…
STEP 01 : FIND A GOOD PWA PLUGIN IN WORDPRESS
In WordPress, there are several plugins to create PWA but Progressive WordPress (PWA By Nico Martin) is just unique and easy to use. You may use another plugin but in this article, we will use Progressive WordPress (PWA) Plugin.
STEP 02 : INSTALL AND ACTIVE THE PLUGIN
Login to your website and click on add New Plugin from the plugins section. Simply search the plugin with the name mentioned above. Install and active it.

STEP 03 : HOMESCREEN CONFIGURE
There are some very basic settings in this step.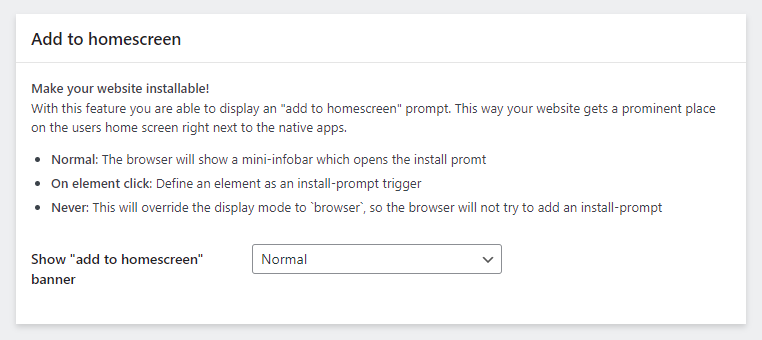 At the above step, it's better to select "Normal". This will show a mini-info bar which will open the PWA installation wizard. Now let's see some of the required settings below: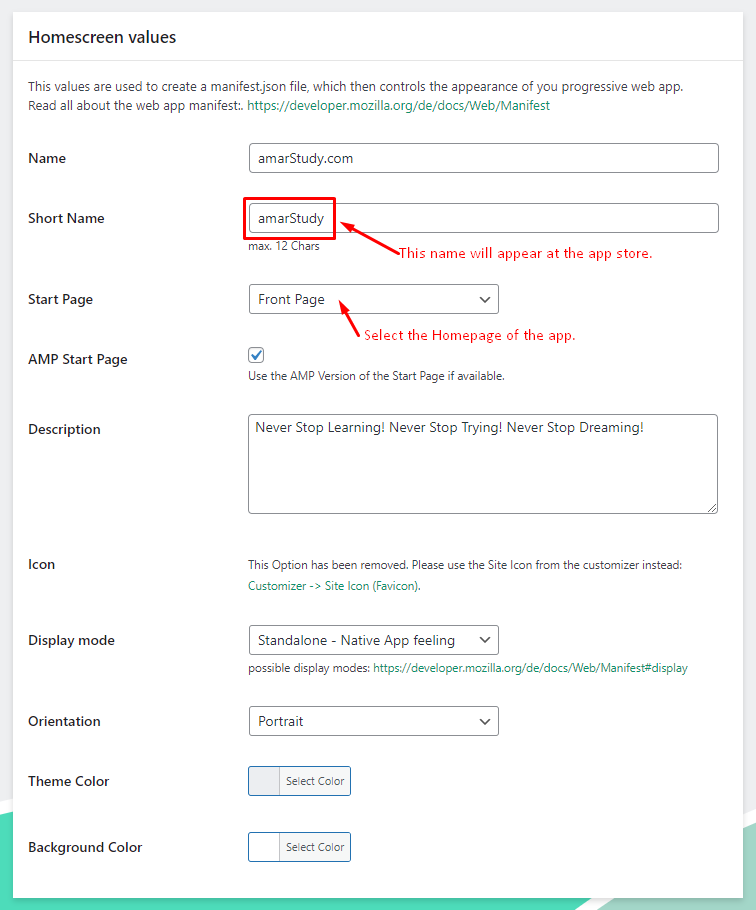 Brief description of the above settings :
| | |
| --- | --- |
| Name | Full name of the PWA |
| Short Name | This name will appear at the app store and this is the name that will show as the app name on mobile devices |
| Start Page | Homepage of the app |
| AMP Page | Tick this if you have an AMP version of your website |
| Description | Small description of your app |
| Icon | This is the site icon. The site icon (Favicon) will be used as the app icon |
| Display Mode | Use "Standalone" as display mode to get native app feelings of your PWA |
| Orientation | Select the orientation of your app |
| Theme Color | Select your theme color. This might be your brand color or other. |
| Background | Depending on your theme color, you should select the background color for the PWA |