LMS WordPress Theme is one of the best WordPress theme for e-Learning, Online academy, online courses, Online Institutes, training centers, Online School, College, University, and Online Instructor Websites.
Online Education with Online assessment systems, Lesson management, Online Quiz System, Practice tests, Mock tests, Registrations, Learning Modules, Complete courses, Webinar & Video Hosting, Tracking Course Progress, Ranking system, online Class, course booking, course form, online exam system, multi-course, kids education course, online tutorials, online teaching and training, Video Courses & Video Class. LMS marketplace for students, content with WooCommerce Store to sell courses Online.
This LMS WordPress theme is used by lots of online tutors, online teaching instructors, training academies, schools, and professional training organizations all over the world. This LMS Theme helps Building an Online Education System website with the most effective and beautiful way of instructing the course to your students, and this is the complete solution for a Learning Management System for WordPress.
Summary & General Functionality :
| | |
| --- | --- |
| Suitable for | LMS |
| Drag & Drop Website Builder | Yes |
| Coding Knowledge Required | No |
| One-Click Demo Importer | Yes |
| Pre-built Websites (Demo) | Yes |
| Gutenberg Optimized | Yes |
| Responsive Design | Yes |
| Mobile Friendly | Yes |
| SEO Friendly | Yes |
| Premium Slider | Yes |
| Premium Plugins | Yes |
| Popular Plugin Support | Yes |
| WooCommerce Support | Yes |
| Multi-Lingual/WPML Support | Yes |
| Contact Page | Yes |
| Mega Menu | Yes |
| Widget Ready | Yes |
| Design Elements | Yes |
| Product Page Layout | Yes |
| 404 Page Layout | Yes |
| Portfolio Layout | Yes |
| Testimonials Slider | Yes |
| News / Blog Layout | Yes |
| Custom Page Templates | Yes |
| Ad. Header-Footer | Yes |
| Search Options | Yes |
| Support and Documentation | Standard |
| Average Rating by User | 4.78 |
| Five Star Rating | 87% |
| Lifetime Update | Yes |
| Reliability and Performance | 4.9 (Out of 5) |
| Comfort of Use | 5.00 (Out of 5) |
| Price | $59 |
| Available at | ThemeForest |
| Total Demo | 4+ |
| View Live Demo | Go to Theme Page |
| Free Trial | No |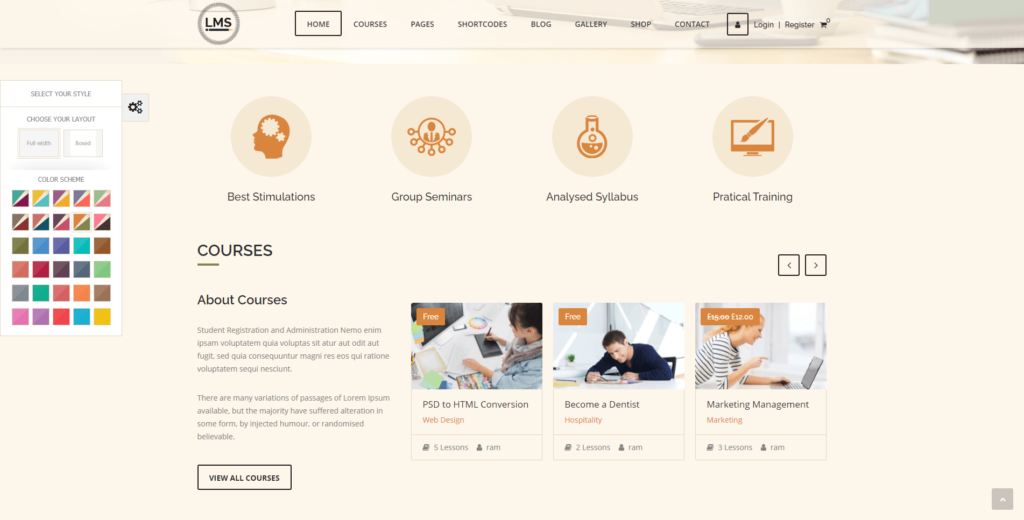 Comfort of Use

Reliability and Performance

Support and Documentation

$ value
Overall Rating :
After verifying each and everything of this LMS WordPress Theme, we gave an average rating of 4.8
Table of Contents :