Adventure Tours is designed and developed to cater to the needs and requirements of tour operators or travel agencies. This Adventure Tours WordPress Theme thus offers such professional features as booking system, customizable search form, payment integration, tours rating and support for WooCommerce to provide eCommerce facility.
Adventure Tours WordPress Theme is therefore perfect if you offer awesome tours for tourists or locals which they can book and pay online without distractions but with convenient user experience.
Adventure Tours WordPress Theme comes with a flexible booking system that allows setting up tour dates by periods. If a tour runs regularly for one month and then on some specific dates, there is no need to create additional tours, all can be set up in one place. You can also indicate the number of tickets for each period of one tour.
Summary & General Functionality :
| | |
| --- | --- |
| Suitable for | Tour & Travel |
| Drag & Drop Website Builder | Yes |
| Coding Knowledge Required | No |
| One-Click Demo Importer | Yes |
| Pre-built Websites (Demo) | Yes |
| High Resolution | Yes |
| Gutenberg Optimized | No |
| Responsive Design | Yes |
| Mobile Friendly | Yes |
| SEO Friendly | Yes |
| Premium Slider | Yes |
| Premium Plugins | Yes |
| Popular Plugin Support | Yes |
| WooCommerce Support | Yes |
| Multi-Lingual/WPML Support | Yes |
| Contact Page | No |
| Mega Menu | No |
| Widget Ready | Yes |
| Design Elements | Yes |
| Product Page Layout | Yes |
| 404 Page Layout | Yes |
| Portfolio Layout | No |
| Testimonials Slider | No |
| News / Blog Layout | Yes |
| Custom Page Templates | Yes |
| Sticky Menu | No |
| Ad. Header-Footer | No |
| Search Options | Yes |
| Support and Documentation | Standard |
| Average Rating by User | 4.71 |
| Five Star Rating | 84% |
| Lifetime Update | Yes |
| Reliability and Performance | 4.9 (Out of 5) |
| Comfort of Use | 5.00 (Out of 5) |
| Price | $64 |
| Available at | ThemeForest |
| Total Demo | 1+ |
| View Live Demo | Go to Theme Page |
| Free Trial | No |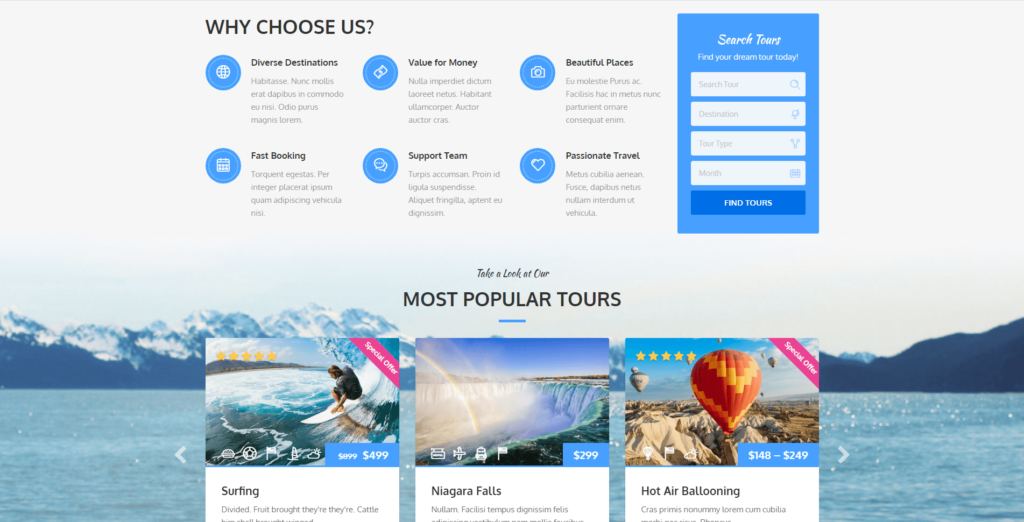 Comfort of Use

Reliability and Performance

Support and Documentation

$ value
Overall Rating :
After verifying each and everything of this Adventure Tours WordPress Theme, we gave an average rating of 4.8
Table of Contents :